"You can't rely on somebody else to make you feel alive. It's an inside job."
—– Jen talking to Pacey
Jennifer 'Jen' Lindley is a main character on Dawson's Creek. She is portrayed by Michelle Williams.
Character
Edit
Jen grew up with her parents in New York and her parents sent her to live with her conservative Christian grandmother (whom she calls "Grams"), and they often clash. As the series progresses, Grams loosens up and becomes more tolerant and loving.
The only child of Theodore Lindley and Helen Ryan, Jen is introduced in the pilot when she arrives from New York City. Jen fell for Dawson Leery, and the two date throughout the first season, which causes tension between Jen and Joey Potter. Later, Jen falls back into her bad girl ways, befriending the school's bad girl Abby Morgan, attempting to steal Dawson from Joey, and getting drunk at parties. After she befriends Jack, another outsider, she begins to feel loved and during third season, she and Joey become friends. 
Until I can look at myself without judgment or condemnation, I'm not ready for anybody – let alone you
– Jen to Henry Parker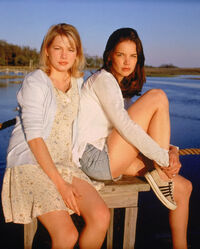 In the first season, Jen is shown to be the reformed bad girl, who just wants a shot at a normal life. Dawson sees her as the image of perfection, which causes his best friend Joey (who has feelings for him) to despise Jen from the get-go. Jen and Dawson date briefly, but break up after Jen realizes that she needs to learn to be happy without a boyfriend. However, she later regrets this, when this causes him to turn his attention towards Joey.
Jen and Dawson break up when Jen's ex-boyfriend Billy came to Capeside to win her back. Billy caused immediate tension between Dawson and Jen, as Jen's past was coming back to haunt her and Dawson. Dawson in the heat of the moment basically called Jen a "slut", and she broke up with him because she had never been made to feel so cheap by anyone. By the end of the season she was regretting her decision to break up with him, and wanted Dawson back, especially as her Gramps passed away.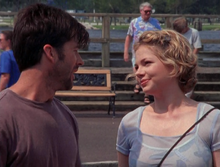 After Jen and Dawson's break-up, Jen became isolated from the rest of the main characters for most of the second season, especially as Jen attempts to win Dawson back while he's dating Joey. Jen befriends Abby Morgan, the cynical and trouble-making girl everybody hates and they often drink and party. Later in her sophomore year Jen briefly dated a conservative Christian, but broke up with him after he was revealed as both a hypocrite and a homophobe; this came about when gay rumors were circulating about Jack McPhee.
Dawson and Jen eventually spent some time together, Jen mentoring Dawson in bringing out his inner kid, and was also his shoulder to cry on while his parents were going through their marriage troubles. When Abby Morgan died, Jen suffered tremendously and gave a brutally honest speech at Abby's funeral, which prompted Grams to kick Jen out of the house.
Jen briefly stayed with Gail and Dawson before she attempted a reconciliation with her parents, who again rejected her. Jen then went to live with Jack McPhee, as Andie and his father left for Providence to get Andie some help. But eventually they decided that they couldn't live in the house by themselves, and so Jack and Jen moved in with Grams.
After a summer of living together with Grams, Jack and Jen have become best friends. Jen becomes Head Cheerleader and Homecoming Queen, after a mock cheertryout intended to ridicule the institution. In the process, a freshman named Henry is smitten with her, but she rejects him, leaving her feeling bad for hurting him and soured with love. After
Pacey
breaks up with Andie, he too, is destitute and while trapped on Witch Island with Joey and Dawson, the two proceed to make out, deciding to pursue a friends-with-benefits relationship.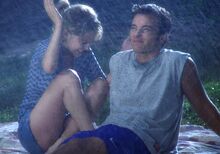 Jen's mother, Helen, unexpectedly shows up at Grams' house for Thanksgiving dinner. Jen is unsure how to handle her mother's appearance, and becomes almost inconsolable after her mother relays that Jen has a half-sister, making her mother's actions of sending Jen away hypocritical. They reach an understanding, and Jen feels a sense of relief moving forward. Pacey and Jen ultimately call quits on the friends-with-benefits situation before anything happens.
Henry and Jen's relationship is the main focus of her storylines, as well as her increasingly loving relationship with
Grams
, and the new experiences that Jen have with Henry, who provides her the kindness, respect and love that she had thus far never had, and been afraid to experience.
"I think, after all this time, you finally believe that you really do deserve to be loved." – Grams to Jen in Season 3.
Though the third season had ended with Jen's unreserved (and public) commitment to Henry, Michael Pitt, who had played Henry, felt the role to be artistically undemanding and he left the show. Henry, we learn in the first episode, had accepted a football scholarship to a private school and early in the season breaks up with Jen through Jack, devastating her.
Henry moves away and breaks up with Jen at the beginning of the fourth season indirectly (by telling Jack), causing her to feel depressed.  She gets into one bad situation after another at school because of Drue Valentine, a former friend who used to do drugs with her when they both lived in New York together.
She starts seeing a therapist to speak about all her issues from her past, which culminates in a visit to her father.  We learn during this visit about the incident that escalated her wild behavior - when she caught her dad cheating on her mother and sleeping with a teenage girl.
Grams moves to Boston with Jen and Jack and the three live together until Jack joined a fraternity, which creates a rift in his relationship with Jen. While at Boston Bay Jen briefly dated musician Charlie (Chad Michael Murray) and ran a school radio show.
After the death of Mitch Leery, Dawson invites Jen to the Hookset Film Festival in New Hampshire after he learns that his father entered him in the competition, using his film about now-deceased-director A.I. Brooks. Dawson wins first place, and jokingly thanks "his girlfriend Jen Lindley".
After sleeping together, Dawson and Jen begin a relationship, but she breaks it off after realizing that it doesn't feel right. During the gang's spring break trip to Florida, Jen finds Joey spending time with Charlie and tries to warn Joey about him and speaks with Jack about his drinking problem.
At the end of the season, Jack relays to Jen that he's passed all of his classes, and the two friends prepare to take a vacation to Costa Rica. However, an unexpected phone call from Jen's parents in New York alter their plans. At first, Jen decides to spend the summer with her best friend, but when everyone collides at the airport in the finale, Jen ends up going to New York.
Jen meets and becomes interested in C.J. Joey's roommate Audrey ends up sleeping with C.J. when she gets drunk before a gig with Emma's band at Hell's Kitchen. Jen learns of C.J.'s sexual misadventures only after he tells her that he no longer dates. In the meantime, Grams is diagnosed with breast cancer and decides not to tell Jen. When Grams gives in and tells Jen of her illness, Jen dumps C.J., who refuses to let her off the hook until she tells him that Grams is sick and he consoles her. When the pressure gets to be too much, Jen calls on her mother Helen (Mimi Rogers) to talk things out with Grams, mainly so Grams can tell her own daughter about the cancer. Eventually, Grams' boyfriend, Bill Braxton (also C.J.'s uncle) breaks the ice and tells Grams that she can't give up the fight. Grams, Jen, and Jack decide to move to New York to live with Jen's mother while Grams undergoes treatment, and Jack and Jen end up attending NYU.
Series FinaleEdit
In the two-part series finale, set in 2008, the gang learns of Jen's fatal heart condition, pulmonary congestion, after she faints during Gail Leery 's second wedding. Jen, now the single mother of a one-year-old daughter, Amy, ends up hospitalized and reveals to Jack, her best friend, that there is nothing to be done to save her. Leaving Amy in Jack's care, Jen dies with Grams at her side on May 14, 2008.